Based in the city of Heraklion the island of Crete in Greece, the Educational Organisation 'MARIA M. ANDREADAKI & SIA E.E.' has a long 22-year experience in private education, offering high quality education and training in diverse vocational sectors and investing equally in theoretical and practical knowledge.
Our vision is to provide students with the highest qualifications and means to achieve a successful entry into the labor market.
IEK MORFI offers education and training in the fields of Computer Science, Economics & Management, Media Studies, Agriculture, Health and Treatment, Tourism Industry and Hospitality services, Hair styling and Aesthetics through curriculums which last 4 semesters.
Aiming to ensure the highest academic quality, we provide a variety of educational programs, highly qualified teaching staff, state-of-the art laboratories and teaching rooms that meet the highest standards as well as safety requirements, a vast variety of extracurricular activities aiming to offer further insight to each specialty field.
With experience in non-formal education, we work for the youngsters from our community. By presenting European values and providing new mobility opportunities to our students youngsters, we would like to support and inspire them to get socially involved and develop their skills (team building, computer, ploblem solving, linguistic e.t.c.) to benefit themselves and their environment as well.
As the new school year has started and along with it the preparation for the submission of new Erasmus+ projects we would like to take this opportunity to propose collaboration under the framework of this program.
We are interested in engaging with institutions both as sending and as receiving organization offering our students the opportunity to be hosted by institutions in Europe. Our staff has over ten years of experience in international cooperation.
As we strongly value the benefits of long life learning education and training in various educational environments, we have been participating in ERASMUS+ programs since 2010, both as a sending and receiving organization. Having collaborated with many educational institutions and Intermediary organizations, we bring the knowledge and expertise needed to provide quality programs to visiting students and staff.
What are the skills and expertise of key staff involved in Erasmus projects?
The educators have great scientific or technical knowledge and experience in their specialty. Many of them are distinctive in their sector and moreover, plenty of them have a European working experience. They have language certificates and are digitally informed. Finally, they have skills of communication and they can cooperate by creating a team work. The personnel of the Institute is chosen with strict criteria related to the experience in adult training and the ability of using teaching methodology for adult education.
Our staff has a long-term experience with European projects. This experience enables us to work successfully in the fields of youth participation at the local, regional, national and international level and to ensure the highest quality of our work. We have applied with many Erasmus projects. Team members of our federation are teachers, psychologists, social specialists, IT specialist, graphic designer. The project team consists of the managers, the financial manager, teachers of professional subjects, who are responsible for language preparation and will set the expected learning outcomes and ensure their dissemination to the local community.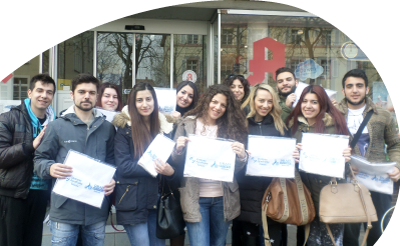 Tutoring and follow-up
Organization of work placements, seminars and professional visits
Accommodation
Transfer from/to the airport
Organization of local transports
Personnel of the Institute
Maria Andreadaki
Head of organization and functionof the Institute, office of employment and career
Antigoni Andreadaki
Manager of "I.E.K. MORFI", Math's teacher with long–term experience in the Secondary education and Vocational education and trainingof post- secondary level. Experience in the organizationand management of programsof mobility LDV (IVT and PLM).
Zaxarenia Andreadaki
Head of communication,cooperation and networkingin European and global level, consultant of ensuring educational quality of "I.E.K. M.O.R.F.I", coordinator of teams of students and Trainer of trainers, head of plans of mobility.
Evgenia Psaltaki
Educator, coordinator of teamsof students and Trainer of trainers, head of plans of mobility.